Palestine's Real Texas Story
Wednesday, March 10, 2021
When Lisa Denton became Economic Director of Palestine Economic Development Corporation (PEDC), one of the priorities was to make the city more visible through recruitment and marketing. Like many economic development corporations, she had a small staff and limited marketing budget to work with. Those constraints required her team to find creative ways to leverage their available resources and get the biggest bang for the buck when it came to exposure.
One of the ways PEDC met that challenge was through their partnership with Texas Economic Development Connection (TxEDConnection), a new, innovative economic development marketing initiative designed to spark interest in new development, job creation, and expansion into Texas by telling the "real" Texas story.
That partnership helps enhance local, regional, state and national marketing efforts through an assortment of digital, editorial and print media marketing campaigns, videos, podcasts, and events to promote the unique aspects of Texas, along with the amenities and charm of Palestine.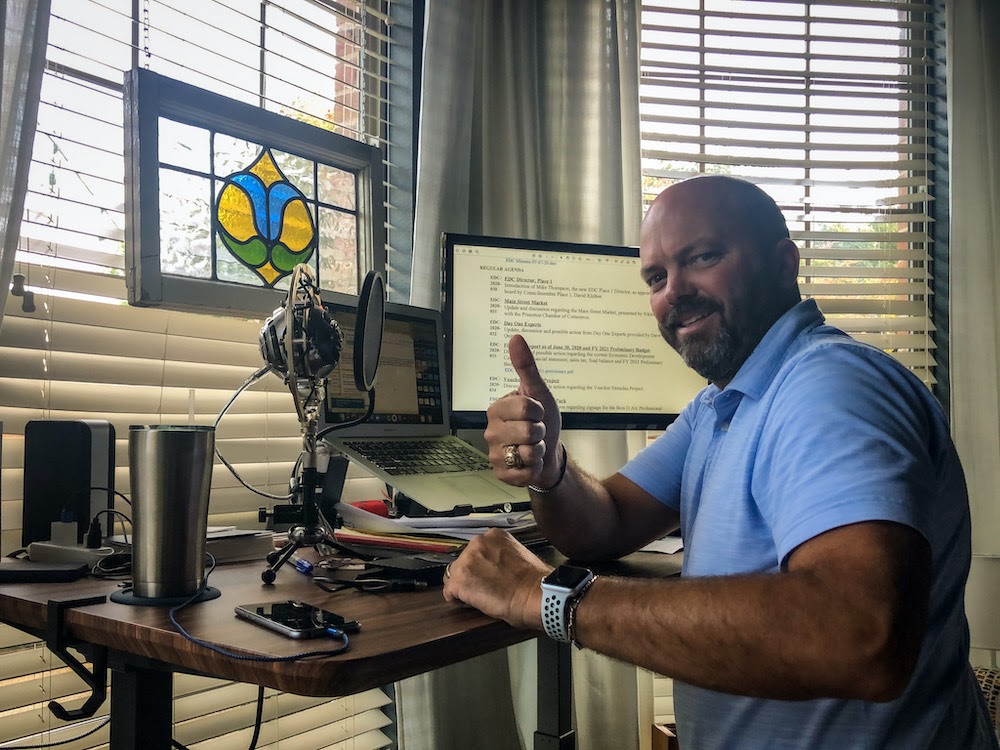 TxEDConnection is powered by Day One Experts, whose managing partner, "Super" Dave Quinn, CEcD, has a passion for presenting a compelling, contemporary view of Texas. His podcast, Gone to Texas has given him the opportunity to share today's Texas story across the globe. Each podcast episode features interviews with business owners and executives whose success stories offer candid, inside accounts of the myriad of economic and quality of life benefits east Texas offers. The show has been leading the charge as an effective marketing initiative for business and workforce recruitment.
A recent episode featured business executive, John Karamanos, of HVAC Manufacturing Inc., which relocated from San Jose, and the Silicon Valley, to East Texas five years ago. Lisa Denton was instrumental in recruiting the company to the area.
Karamanos speaks volumes about how the move rapidly accelerated his company's innovation and growth in ways that wouldn't have been possible in California. His success story is similar to that of others who've discovered the advantages to becoming Texans. Needless to say, these compelling firsthand accounts are very convincing.
"People often only know what they've seen on the news," Quinn explains. "This causes them to have a skewed perspective of what they'll find here."
Quinn goes on to say that as more and more people come to Texas, more diversity is adopted into the everyday culture. "Texas continues to refine itself," he says. "It's not so different than when Texas was first settled. People brought their culture with them, and you can still see the influences across the state of these early settlers. As a state, we also continue to diversify our economy. We are leveraging the skills and experience in our heritage industries to drive innovation in new growth industries. The ability to transfer this knowledge is helping drive the in-migration of companies from around the world."
During the course of this podcast series, Quinn will interview a wide range of people who have chosen Texas for their businesses. He knows exactly what draws them to the area.
"One of the things I hear over and over again is about the workforce," Quinn says. "Talent is king, and CEOs and operation managers are surprised by the workforce they find in the area, not only from a skills perspective, but also in the work ethic and pride of craftsmanship." He continues. "The value proposition is outstanding in Texas. Employers get higher quality employees at a lower cost than elsewhere."
When asked specifically about Palestine, Quinn says that among its most often mentioned advantages are the abundant supply of water for manufacturing, and the location between the Houston and Dallas metro areas at the intersection of five major highways, making it an ideal place for manufacturing and distribution companies.
He then can't help but praise the beauty of the Piney Woods of Northeast Texas and the ample recreation opportunities for outdoor enthusiasts. "Palestine offers access to a quality of life where young families can maximize their income to achieve a work-life balance that means the difference between merely surviving and thriving," he says. "UT Tyler at Palestine and Trinity Valley Community College also offer the education infrastructure needed to meet growing companies' demands in the area."
Quinn says success in economic development comes down to creating a vision for the future, creating a plan to get there, and having a team in place to execute the plan.
"Palestine is fortunate to have Lisa Denton and her team on the job," he says. "She is well respected in the Economic Development industry and has a track record of success that speaks for itself. Good things are on the horizon for Palestine."