Location Advantages
If you need to get somewhere fast – Palestine is the right location for your business. The City of Palestine is where five major highways converge and then go out in a pentagon, making it possible to head in any direction and reach major cities like Dallas, Houston, Austin, Oklahoma City, Jackson, New Orleans and Kansas City in less than a day. As a former railroad city, Palestine has a strong railway presence – offering businesses another way to move raw materials and finished products. Reaching Palestine by air is also convenient with the city having its own municipal airport and being only two hours from the Dallas and Houston airports. Additionally, businesses needing to move products by ship can reach the Port of Houston in under 2.5 hours. Regardless of a business's transportation needs – Palestine makes it easy to access more MSA's. This is why companies like Walmart and Budweiser have chosen to open major distribution centers in the city. 
Explore our location advantages below or contact us for more information.
Chart with Mileage
| Distanced to Major U.S. Cities |   |   |   |
| --- | --- | --- | --- |
| Austin, TX | 176 miles | Little Rock, AR | 318 miles |
| Birmingham, AL | 584 miles | Memphis, TN | 452 miles |
| Dallas, TX | 113 miles | New Orleans, LA | 421 miles |
| Houston, TX | 152 miles | Oklahoma City, OK | 318 miles |
| Jackson, MS | 353 miles | St. Louis, MO | 663 miles |
| Kansas City, MO | 567 miles | Chicago, IL | 958 miles |
| San Antonio, TX | 255 miles | Lubbock, TX | 431 miles |
---
Local Map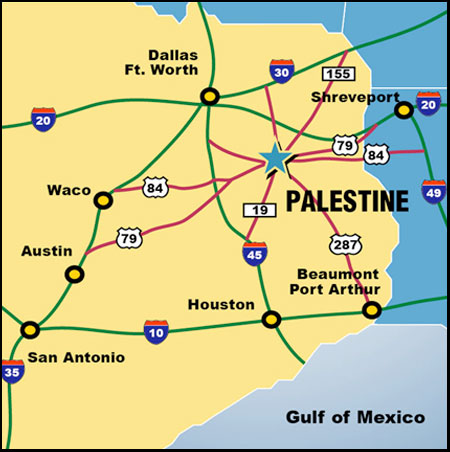 Market Access is easliy accomplished in Palestine.  U.S. 79, 84, 287, Texas 19, & 155 provide Palestine with the interconnectivity to all of Texas and the United States.
Regional Map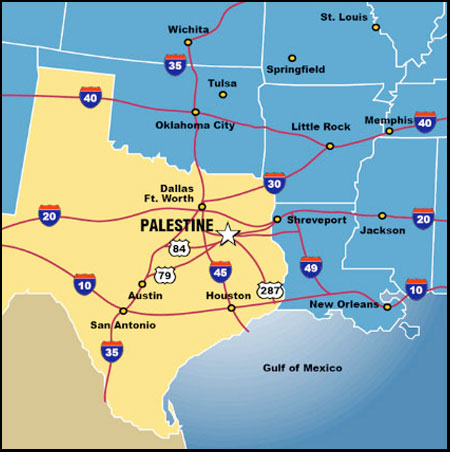 National Map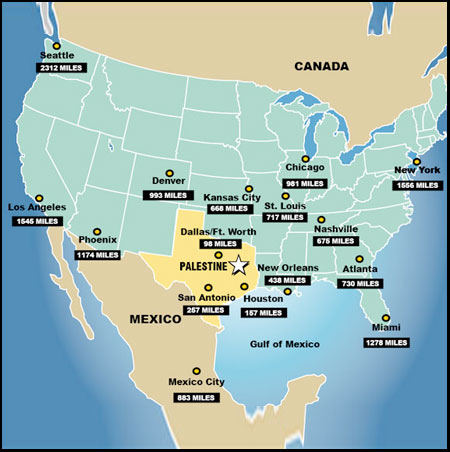 ---
Central Location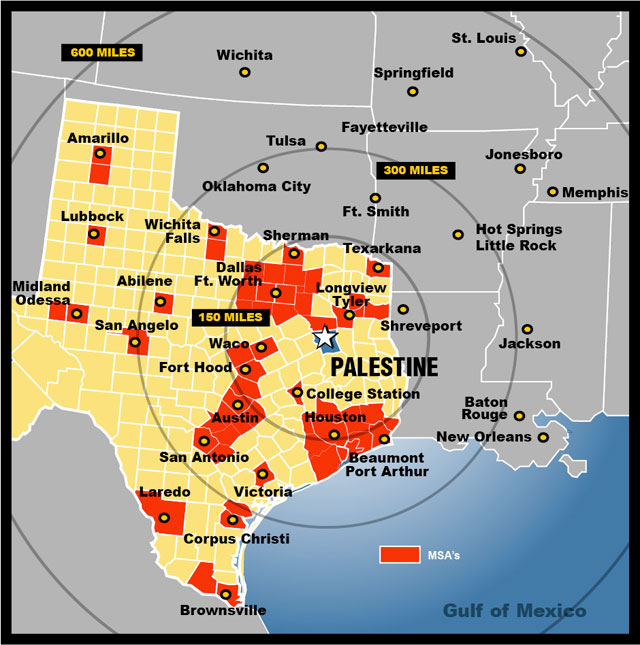 Reach More MSA's From Palestine's Central Location. If your business needs acces to a majoirty of the MSA's in Texas, then Palestine is the location.  Most of the MSA's can be reached in 3 hours or less from Palestine. 
Rail Connection
Palestine is served by Union Pacific Railroad.  Palestine has an intersection of a north/south and east/west line.